Beyond Book Smarts
Chris Bentley, Executive Director of the Legal Innovation Zone at Ryerson University
Lawyers are faced with change on a scale and pace rarely seen in history. Our laws are not keeping up with societal changes. Consumers are served by a legal system that is slow, complex and expensive – with many denied its benefits – and they increasingly demand services that respond to their own schedule and price.
Lawyers talk a lot about meeting these challenges, but results are hard to see. Maybe this isn't surprising, though. If we educate people with the same decades-old approach and then hire them valuing success in that approach, should we expect different results? Real change must start with education.
Some law school and transition year initiatives are already underway, but if consumer and societal benefit were to be the focus of legal education, so much more could be done.
We should start, for instance, by integrating academic theory with real-life expertise about what happens in practice. Most cases are never tried, let alone appealed. Students must understand the issues around time, cost, relevance, and the relationships and power imbalances that shape results in practice. The age-old debate between practice and theory, and the purpose of law school, misses the point: each is enriched by the other.
Context also counts. We learn law as though it were a solitary pursuit, but the legal issue may be only one part of the problem. Life evolves in a multi-disciplinary world, where teams of professionals fashion a solution. Successful teamwork is learned.
Second, we have to understand that technology changes everything. We are in the midst of a digital revolution, but our legal system still loves paper and all the formal procedure. Technology compresses time and distance, and diminishes the importance of jurisdictional boundaries. And if you think professional self-regulation will protect you, forget it! Jurisdiction is an issue for lawyers, but consumers are rarely bothered by it. Technology enables our consumers to reach around the world for what they want, and they do.
What happens when artificial intelligence moves from future possibility to present fact, when ROSS is your colleague? Or when lawyers become global advisors? Does core education change? … I know, many legal experts have promised ROSS won't replace lawyers. And maybe it won't. But when Steve Jobs first walked the stage with the iPhone in 2007, he led a computer company, not a phone company. The future is now.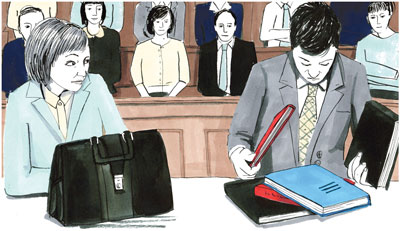 Third, we must be aware that consumers will get what they want. You doubt it? Consider the music, film and broadcasting industries that have been remade because consumers decided to flout legal protections. The taxi industry is coming to realize that rules and regulations are often meaningless. Legal systems work because most people respect them most of the time, in part because they see the value. Today, the digital revolution has both enabled and empowered consumers to rewrite the law.
Lawyers may be fascinated by the journey, but consumers want answers and don't have the patience for process. If we're asking consumers to slow to our glacial, other-century pace, that simply will not happen. Those who can avoid the courts and process do. (Look at the explosion of ADR.) The rest are demanding more. We study a system that is used less and less by those we serve.
Finally, we must recognize that change is today's constant. Our profession is very traditional, and we love our traditions. To break the momentum of inertia, we must prepare lawyers to innovate, beginning with their legal education.ers want answers and don't have the patience for process. If we're asking consumers to slow to our glacial, other-century pace, that simply will not happen. Those who can avoid the courts and process do. (Look at the explosion of ADR.) The rest are demanding more. We study a system that is used less and less by those we serve.
Society has evolved substantially over the past several decades, but our approach to meeting legal needs has not. Our profession needs to accelerate and innovate to meet legal needs in the 21st century. Let's start with legal education.
This post was originally written by Executive Director, Christopher Bentley,  for the Lexpert Magazine March 2016 Issue.  
---
1982 –  Memories of a Techno-dino
This post was written by Kathy Tomaszewski, who is the Chief Knowledge Officer of Clausehound Inc., a LIZ-based startup. The original article can be found here.
"How has legal technology affected you?" This is the first perspective in a three part series.
1982 – some of you were not born yet in the year I began my legal career as an Assistant Professor at Western University.
You will likely have difficulty imagining that all legal research was done manually with books and loose-leaf research services, and that proximity to a physical law library was essential. One law librarian at Western told me a few years ago that they think there are law students who graduate now without ever having set foot in the library. Imagine that!
"Yes, this is the loose-leaf I am referring to"
Image by Addedentry via Wikipedia.
You would also have difficulty imagining that all documents were typed manually, or photocopied and cut and pasted together and re-photocopied, and that we used gallons of 'white-out' in the drafting process. Document comparison was a nightmare. Everything was done manually – no blackline comparisons with 5 clicks of a mouse! In 1983 I was only the second Faculty member to own a personal computer. We had to boot up manually in DOS, and insert the floppy drive – and there was no automatic 'save' to backup!
"Going through 20-page documents on this was a nightmare"
Image by Ruben de Rijcke via Wikipedia.
Those of you who are 'experienced' enough to remember those times know how much times have changed! Today we have a world of research available at our fingertips. Word processing software and online drafting tools (such as Clausehound which I am helping to build) have revolutionized the drafting process. Innovative services (such as Clausehound's NDA gap processing tool) have made it possible to mechanize document comparison, saving hours of labour. Other software packages have created efficiencies for everything from accounting to file management.
Fast forward 30 years…. After a decade as a full-time member of Western's Law Faculty, I resigned to raise our family, and pursue other business interests. When I resumed my legal career, technology – and the legal profession – had changed to permit me to work from home. This is what has excited me the most about legal technology innovation.
Colleagues at work now know me affectionately as the "techno-dino", and have generously transitioned me into the 21st century. If I can do this, anyone can! In fact, if you are serious about starting your own or growing a legal services business, you must consider the "new law environment" and think about how to use technology opportunistically.
With teleconferencing, video conferencing, chat messaging, cloud document and file storage, and of course email, legal professionals can work in a virtual office environment. It makes no difference if our colleague is in the next office, on the floor above us, or in a city 2 hours away – we are all in "e-contact" at all times. This enables the right talent mix to come together, even if that talent does not all live in the same city. This is true for building a firm, or for putting a team together for a particular transaction. Clients are also following this pattern. They are saving time and money by 'e-meeting' with their legal advisors when possible, and by staying in contact even when they are out of the country.
To survive and thrive in this changing legal landscape, lawyers need to 'think outside the box' and use technology to support their efforts to deliver quality legal services to their clients. While nothing replaces top notch legal talent (I too find it hard to believe that robots will replace lawyers anytime soon), mechanized drafting and document comparison tools, along with quality research tools can save labour, freeing up talent for more customized client needs. These tools can also help the smaller firms compete with larger firms.
Do you remember 1982? If you don't, you still need cutting edge legal tools to be competitive. If you do remember 1982, do not be afraid of the changing technology – embrace and use it to your advantage. By following this advice, I now find myself in the exciting position of working on the cutting edge of legal innovation!
My colleagues who have affectionately anointed me as the techo-dino has also written the second and third blog in this series. Take a quick peek and see how they, as articling students, have capitalized on some of the latest legal technology.
This article is provided for informational purposes only and does not create a lawyer client relationship with the reader. It is not legal advice and should not be regarded as such. Any reliance on the information is solely at your own risk.